What are Open Badges?
Open Badges (OB) are designed in a format that make them shareable on different platforms in dedicated spaces. Open Badges allow individuals to demonstrate achievements, skills and experiences in a digital format.
For example, the OB "Concepts and processes of Research Data Management" certifies that you are able to:
Explain what are: metadata, persistent identifier, secure back-up, storage for sharing and long-term archiving,
Understand the data lifecycle and the FAIR principles,
Know the basics for writing a Data Management Plan (DMP), legal and ethical aspects of Research Data Management (RDM), reuse and valorization of data.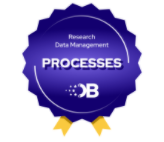 Find out what Open Badges say about you!
Online access to Oberred Moocs: https://platform.europeanmoocs.eu/